Collections
The Pearce Museum at Navarro College consists of a number of focused collections – namely documents, artifacts, and photographs related directly to the American Civil War and works of art depicting the historic and modern American West.  In addition, the Pearce Museum is the repository for the Navarro College Archives.
The Civil War collection at the Pearce Museum has more than 15,000 documents as well as a number of photographs and three-dimensional artifacts that directly relate to the period 1861 – 1865 and are original to that time period, or were written or made within the life of a participant in the American Civil War.  You can research our collection by doing a key-word search,  click on the finding aid button below, or ask our Curator by submitting a Research Request.

FROM THE COLLECTION… Joseph B. Polley (CSA) – born October 27, 1840, Brazoria County, Texas; son of Joseph Henry Polley, who moved to Texas in 1821 with Stephen F. Austin as one of the "Old Three Hundred" colonists; graduated from Florence Wesleyan University in Florence, Alabama;enlisted 4th Texas Infantry, Co. F, "Hood's Texas Brigade"; wounded at the Battle of Gaines Mill 1862; wounded at the Battle of Darbytown Road October 7, 1864; foot amputated as a result of the wound; discharged January 25, 1865; upon return to Texas studied law and admitted to the bar 1868; member of 16th Texas Legislature in 1879; married Martha Legette in 1866 and had four children; published his memoirs entitled "Hood's Texas Brigade" in 1910; died in Floresville, Texas February 2, 1918.
Camp near Farifax C. H.
Sept 3rd 1862
Dear Mother-
Having by the kindness of Brahan obtained this sheet of paper and a board, I shall write you a few hasty lines- Since I left Richmond we have been in two fights on the old Manassas grounds and have defeated the enemy each time- on the 29th and 30th August- Though our regiments made two daring charges and in the second one began the battle and captured nine cannons its loss is comparatively trifling being only about 120 men- In our own company – Wolf, a brave German was killed Jim Sneed wounded through the foot and Billy Floyd cut slightly on the neck- Several were knocked down but are not hurt or kept from being with us- The enemy were routed, have fallen back near Fairfax and are now confronting us – One more fight and I think the war will be over. You will be sorry to learn that Sq Johnson was killed on the 30th. He had lately been elected 2nd Lieutenantcy – All our boys in Camp are well and hearty. How those in Richmond are I cant say. We move toward the enemy in a short time so farewell – Your affectionate Son JB Polley
My love to Father Brother and Sisters
JBP Brahan desires me to present his regards and tell you that he is ready for the next fight –
Private JBPolley
Co F 4th Texas Regt.
Mrs Mary B. Polley
Sutherland Springs Wilson Co. Texas
The Western Art collection at the Pearce Museum has 250 works of art in a realistic style that directly relate to the historic and modern American West. The collection is both two and three-dimensional; including media such as oil, acrylic, watercolor, egg tempera, and guache, as well as bronze and alabaster sculpture.
FROM THE COLLECTION…Click the following toggles to view work and learn about artists in our permanent collection.  For more information on the collection, contact the Curator at (903)875-7642.
A member of the American Indian and Cowboy Artists Association, Alfredo Rodriguez established a studio in Corona, California. His rich and vivid colors depict scenes of the inhabitants of the American West: Indians, Mountain Men, Cowboys, nestled in the mountains, deserts, and Indian villages.
Painting has always been a part of Alfredo Rodriguez' life. He was born in the small Mexican town of Tepic, Nayarit which is located in the heart of Mexico.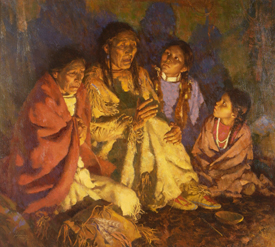 Born in Oak Park, Illinois and receiving his art education at the Chicago Academy of Fine Art and the American Academy of Art, Howard Terpning became one of the best known and financially successful members of the Cowboy Artists of America.  The Museum is home to two works by Terpning; Grandfather Speaks, and Discovery of a Lost Friend.
He had an eight-year apprenticeship in commercial art in Chicago and then moved to New York City where he spent twenty five years as an illustrator, creating work for numerous publications including Time, Newsweek, and Reader's Digest.
The Navarro College Archives serve as the institutional memory of Navarro College and its service area. Records and papers of enduring value document the development of Navarro College from its inception in 1946 to the present. Collections include the papers of faculty members, alumni, staff, and other individuals significant to the historical development of Navarro College. Records of student organizations, groups, and academics, and institutional records such as yearbooks, college catalogs and course schedules are also represented.
Currently, the Navarro College archives are not searchable online. Please contact us at 903-875-7642 to make an appointment or for more information.
The Reading Room and access to limited archival materials is available by appointment only.  Submit a

Research Request

, or call 903-875-7642 to make an appointment or for more information.
Please be aware that it may require two to three weeks to complete your reference request. Every attempt to answer questions promptly will be made, and you will always be notified that we have received your request by email and that we are working on it.
Paper or photographic copies and/or digital image reproductions of many of the Civil War documents in the collection may be requested, although due to the condition of some original documents and photographs, not all original documents or photographs are scanned and available.  If a document is in too poor of condition to be scanned, a typed transcript of the document will be offered.  After reviewing the collection online here, submit a Research Request, or contact us at 903-875-7642, and we will provide information about the availability of your request.
The following fee schedule governs document and photographic reproductions from the Pearce Museum.  Due to the condition of some of our collection items, not all original documents are scanned and available.  In those cases, only typed transcriptions will be offered.  Reproduction fees are formulated by the Pearce Museum at its sole discretion and may be subject to change without notice.
Initial Processing Fee
$10.00 for first fifty document pages
(processing fee increases by $5 for 50 page increments above that)
Plus Document Fees as follows:
Copies of Originals: $1.00 per page
Copies of Transcriptions: $ .25 per page
Photographs: $10.00 per page (photographic copy 8 x 10 or smaller) black & white, sepia, or color as possible
Publication: $30 per image plus Initial Processing Fee
The Pearce Museum welcomes researchers.  We hope you will make an appointment and visit the Reading Room personally so that we may better help you – especially with detailed research projects.  The Reading Room and library resources at the Museum are available to you.  Much of the archival collection has limited access so as to better preserve the historically valuable documents for future generations.
Whether you request information online or in person, remember to complete a Research Request Form.  Requests for copies of original documents, transcriptions, photographs, etc MUST be done in writing.
All materials held by the Pearce Museum or Navarro College are subject to copyright laws.  Any use of archival materials for advertising, exhibition, or publication (print and electronic) must be approved by Pearce Museum after submitting a completed Permission to Publish application.  A research request does not constitute permission to use those materials in publication.  After a Research Request has been completed, the Curator will provide you with a Permission to Publish application if needed.
Researchers are responsible for understanding U.S. Copyright Law.  Neither the Pearce Museum nor Navarro College is responsible for a researcher's actions.  The researcher agrees to indemnify and hold harmless the Pearce Museum / Navarro College and all its employees, from any and all claims resulting from the use of materials in the archives.  Obtaining a copy for scholarly purposes does not constitute permission or the right to publish that material.  For further information on copyright law, see the Library of Congress web site.
Upon permission to publish, any reproduction will be accompanied by the following caption and credit, which must appear in the immediate proximity to the reproduction, or in a section devoted to acknowledgements.  The citation should read
"Courtesy of the Pearce Museum, Navarro College, Corsicana, TX"