About
From the war-weary letter Colonel Joshua Chamberlain wrote to his wife from the Antietam battlefield to Howard Terpning's artistic interpretation of a Native American grandfather sharing wisdom with his grandchildren, these collections will give you the chance to appreciate the unthinkable sacrifices of the American soul, and the transformation of the American conscience during the last half of the 19th century.
Through our mission,
to connect with the past by engaging today's visitor through personal perspectives of the Civil War and the American West
we wish to preserve and interpret as fully as possible the history of the American Civil War and the people involved – North and South, men and women, children and adults, leaders and common citizens; and through the Museum's Western Art collection preserve and interpret art which depicts either the historic or modern American West.  Staff and volunteers are dedicated to the visitor experience and committed to excellence in every aspect of its educational programs and collections management.  To this end, we aim to serve a diverse public through a dynamic, innovative, and welcoming facility.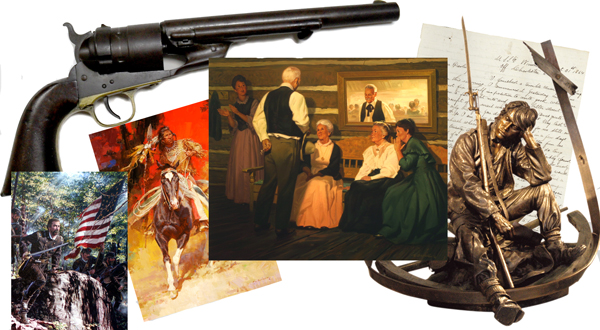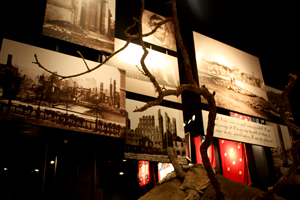 The museum is divided into two distinct exhibit areas.
The Civil War Gallery is an interactive experience designed to give the visitor a humanistic overview of the Civil War, including issues, causes, battles, leaders, plight of the common soldier, the home front, and the aftermath.  There are currently more than 15,000 items in the Civil War collection.
The Western Art Gallery features two- and three-dimensional works of art depicting many aspects of the historical and contemporary Western experience including cowboys, Indians, settlers, and pioneers.  There are 228 works in the Western Art collection.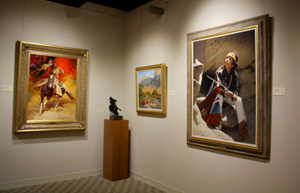 In 1991, Charles S. Pearce, Jr. purchased a gift for his wife, Peggy.  That gift, a letter from the battlefield at Antietam written by Joshua Lawrence Chamberlain to his wife Fanny, sparked an ongoing interest that led to the current collection of historically significant Civil War documents here at the Museum.  In 1996, when the Pearce's decided that their collection needed a home where it could be viewed and researched, they placed it in the care of Navarro College.
The Pearce's originally started collecting art when they had a home in Santa Fe, New Mexico, where many contemporary Western artists lived.  Their philosophy for the collection is based upon gathering a representative collection from recognized artists while identifying up-and-coming artists.  Charles and Peggy decided that their unique collection of Western art also needed a home where it could be enjoyed by students and art lovers.
Chuck and Peg Pearce were an amazing couple. Although they came from different backgrounds, their combined energy, curiosity, and imagination formed a marriage that lasted for over sixty years.
Chuck was born in 1919.  His father was a Wisconsin farmer and his mother was the daughter of a Texas rancher.  Chuck's father, a very successful businessman, provided his family with all the opportunities that love or money could make possible.  He grew up in a gregarious household surrounded by interesting and diverse people.
Peg was born in 1918. Her father was a country doctor in upper New York State. Her mother was musically-inclined and wanted Peg to appreciate culture.  Both of her parents taught her to work hard and never to be afraid to try something new.  Chuck and Peg met at Cornell University and were married in 1942.
Although they began collecting art early in their marriage, it was not until they built a home in Santé Fe, New Mexico in the early 70s that they really began to expand their collection. Since Chuck's real passion was Western art, they concentrated on that genre for the most part.
Peg had always been a student of history and over the years became particularly interested in the Civil War era. "The Killer Angels," a book about the battle of Gettysburg, really caught her attention. She became infatuated with Union officer Joshua Lawrence Chamberlain.  Knowing this, Chuck gave her an original letter one year for her birthday that Chamberlain had written to his wife Fanny during that battle.  They soon began collecting other letters and memorabilia from the war.
It became apparent to Chuck and Peg that they had amassed two collections of great value that ought to be shared with everyone. Toward this end, they approached Navarro College with the idea of donating the two collections and building an addition to the Cook Education Center in which to display them.  It was their hope that this would serve to enrich not only the students at the college but also all who choose to visit.  The Pearce Museum opened in 2003 and today attracts people from all over Texas and the rest of the country.
Although Chuck and Peg are gone now, their generous gift remains as an important legacy for us all to enjoy.
                        Vivian Pearce
Charles S. Pearce, Jr. ~ 1919-2008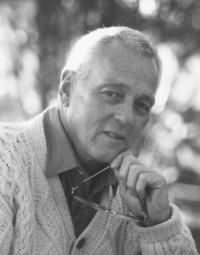 Charles S. Pearce, Jr. was born in Milwaukee, Wisconsin in 1919, the son of Charles S. Pearce, Sr. and Vivian Coates Pearce.  Though raised in Chicago, Charles, Jr. attended prep school at Los Alamos Ranch School near Santa Fe, New Mexico.  He graduated from Cornell University, Ithaca, New York, with a B.A. in English in 1942.  During World War II, he served in the United States Army, first in field artillery and subsequently in tank destroyer and intelligence.